SharePoint Two-Way API Integration Brings Microsoft's Enterprise-Grade Document Libraries Right into Procore
Procore customers can now automatically update SharePoint and Procore libraries simultaneously with a new SharePoint Two-Way Sync integration and connector, built on Procore Construction OS and is available in the App Marketplace.
SharePoint Two-Way Sync shares and mirrors files and documents in both SharePoint and Procore libraries through a new connector created by HingePoint, a Dallas-based company that integrates and architects SharePoint for better data management.
The SharePoint Two-Way Sync brings Microsoft's enterprise-grade document libraries right into Procore, with two-way, real-time sync of folders and documents. When a folder is updated in SharePoint, it updates in Procore. If a file is deleted in Procore, it is deleted in SharePoint.
"This is not an embedded form that anyone can access, it's an actual API integration that lets SharePoint and Procore libraries mirror one another while having the security of both systems," HingePoint CEO and Founder Bryce Finnerty said. "If you are a user with rights to a Procore project and you're a SharePoint user with rights to a document library, you can access the synced files."
A growing number of construction companies use SharePoint as their system of record to store important data about employees, contracts and project status. This connector eliminates multiple repositories of documents in both Procore and SharePoint and connects the construction unit to the rest of the company.
The new integration HingePoint provides for Procore reflects each organization's commitment to openness and building out the construction technology ecosystem. With the new connector, companies can automatically and securely sync files between Procore and SharePoint or Office 365, which will save time and confusion when managing project documents.
It also creates better collaboration with the teams that are not in the construction space.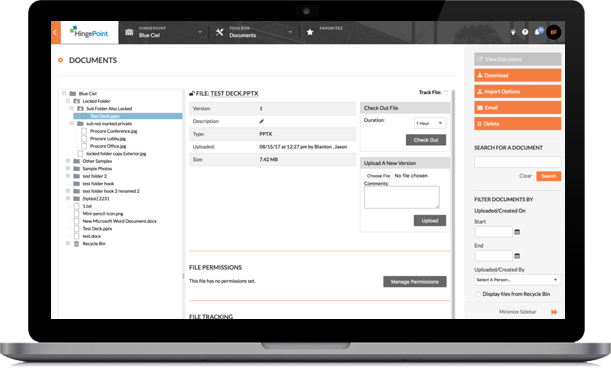 Leveraging SharePoint's API with Procore's open system, this integration automates document sync, saving time and effort of updating two systems that tracks and reports documents. This integration allows everyone – from the owner to the general contractor – to have access to relevant documents needed to finish a project.
"We're excited for the SharePoint connector from HingePoint to launch on the App Marketplace as it will have an immediate impact for our users who will be able to take advantage of it," said Laura Paciano, Senior Manager, Partner Programs, at Procore. "We first began talking with HingePoint about an integration at Groundbreak, which was just over five months ago, so for the connector to now be ready is a testament to their commitment to the construction industry and value of the App Marketplace."
HingePoint integrates software so data can move from one system to another. They specialize in building custom tools that detect and collect data, so a business can project trends about their business.
For more information, contact us today!
214-301-0000
---
About HingePoint
HingePoint offers cloud and mobile applications for construction and real estate that are easy to adopt and employees love. Specializing in the systems that run the construction and real estate business including SharePoint, Salesforce, Procore, MS Dynamics, and Autodesk. Scale and grow profitably with Financial and Project Management Dashboards, document management, and workflow automation for field to office collaboration.
HingePoint
8105 Rasor Blvd.
Suite 241
Plano, TX 75024
(214) 301-0000
www.hingepoint.com